Romantic Maine Elopements Venue
At our Moosehead Lake Inn, we host private elopements on Thursdays through Sundays. To ensure exclusivity, our Maine elopements are between 12:00 PM and 2:00 PM, followed by cake cutting and a champagne toast. You may choose from a variety of locations on the grounds, or within the lodge's common rooms. Allow us to create an exquisite setting for your special day. These packages are just for the eloping couple, and are simply perfect – with everything you need for the most romantic event in your life. A two hour event is orchestrated to ensure that you need only show up with your attire, your marriage license, and the rings.
Elopement Packages:
Standard Elopement Package
Garden ceremony overlooking Moosehead Lake with an indoor location provided for inclement weather.
Beautiful fresh flowers for the couple.
Officiant to perform ceremony and file wedding documents.
Photographer for one hour, digital photos provided.
4-course dinner for 2 in our dining room.
Gourmet wedding cake (flavor of your choice).
Champagne Toast plus 2 flutes as keepsakes.
2 nights lodging in a Carriage House Suite with double jetted tub.
Champagne and strawberries delivered to your room on arrival.
Breakfast each morning.
Wedding Ceremony Director & Witnesses.
All gratuities included.
Package price: $4,250 (Prevailing Maine State lodging tax will apply. Gratuity for waitstaff and housekeeping is included)
Premium Elopement Package
Our Premium Elopement Package includes ALL of the standard elopement package items, plus:
Premium flower arrangements for elopement couple.
Extra hour of photography.
Charcuterie Sunset Platter on your second night.
Anniversary cake when you return to our lodge within one year.
Package price: $5,000 (Prevailing Maine State lodging tax will apply. Gratuity for waitstaff and housekeeping is included)
Add to Your Special Day
Up to 6 guests in addition to the wedding couple may attend for additional fees.
Dinner is available for up to 6 people. Call for pricing.
$75 per guest for champagne toast and cake; up to 6 people.
Flowers for groomsmen, bridesmaids, parents of the couple, or others can be added for additional fees.
Turn your Elopement into a honeymoon with a Maine travel package!
Photo album 10 page (20 photos) Deluxe Album (8×8) is also available for additional cost.
Elopement Policies
A 50% deposit on elopement packages is required at booking.
Cancellations: 30 days notice is required. Less 30 days, a $100 administration fee and full amount of elopement package, including any ordered food will be charged.
As an adult destination location, children attending the elopement ceremony require a complete rental of the lodge and dining room.
Elopement packages not available on holidays.
Cannot be combined with other offers or discounts. 3rd party gift certificates cannot be used for elopement packages. No substitutions will apply. Non-alcoholic beverages are available.
Please review full Inn Policies.
Elopement Gallery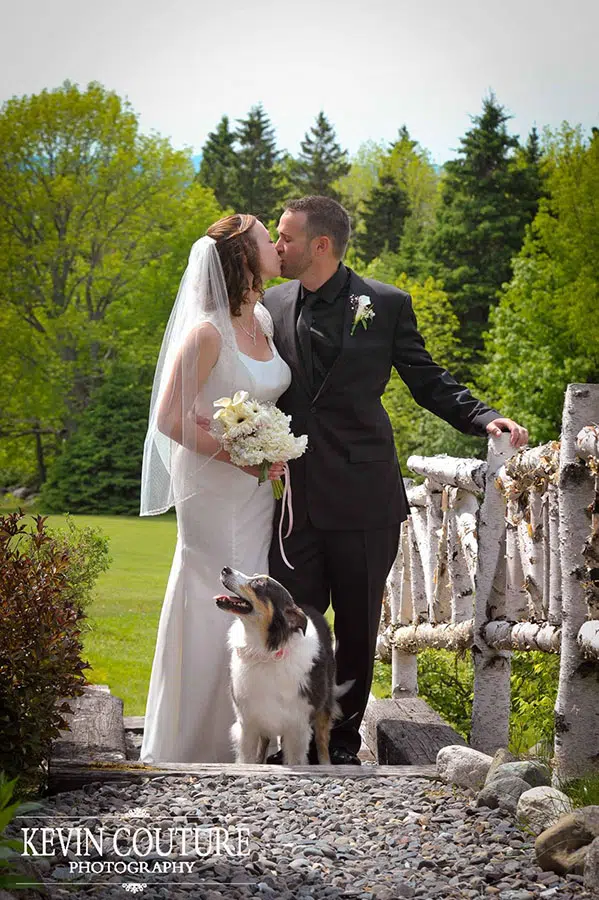 Special Thanks to Kevin Couture Photography for being our wedding photographer.
For additional photos of elopements at Lodge at Moosehead Lake, please see the Wedding Category of our Blog.
Stay in the Know!
Connect with us and sign up for our newsletter!