The Lodge at Moosehead Lake is proud to announce the grand reopening of 368 Maine, our newly named, fine-dining restaurant in Greenville, ME. The event, scheduled for May 7th, 2023, features a 6-course, Chef's Choice Menu created by Executive Chef Tyler Upton. Come join us for an evening of fine dining overlooking Moosehead Lake.
The Lodge at Moosehead Lake has long had a restaurant but the opening of 368 Maine marks a new era in local fine dining.
We've spent the last two years working hard to make the lodge and restaurant uniquely our own. We want our guests to be able to enjoy an upscale restaurant experience without the fussiness and pretense that often goes along with fine dining. Guests can now come to 368 Maine for amazing food and drink, outstanding views, exemplary hospitality, and all in a casual, friendly atmosphere.
368 Maine at The Lodge at Moosehead Lake
368 Maine is open to lodging guests and the public. Reservations are strongly suggested.
We're open December through March, Friday to Sunday, and May through October, Thursday to Sunday, from 5pm to 8pm.
Guests to the restaurant choose from a variety of options, including Prix Fixe menus, holiday specials, and Chef's Choice menus.
Chef's Choice is our favorite night of the week, with six luxurious courses chosen by the chef. The evening is designed for true foodies, with the menu and an optional wine pairing only revealed once everyone takes their seats. It's always great fun to see our guests interacting and trying new flavor combinations. Chef's Choice is offered the second and fourth Sunday of every month. They usually sell-out during summer months, so don't hesitate to book that reservation!
Chef Tyler and 368 Maine can also provide food for most of the events held at the Lodge. These include private parties, corporate events, baby showers, family dinners, microweddings of 15-20 guests, and elopements.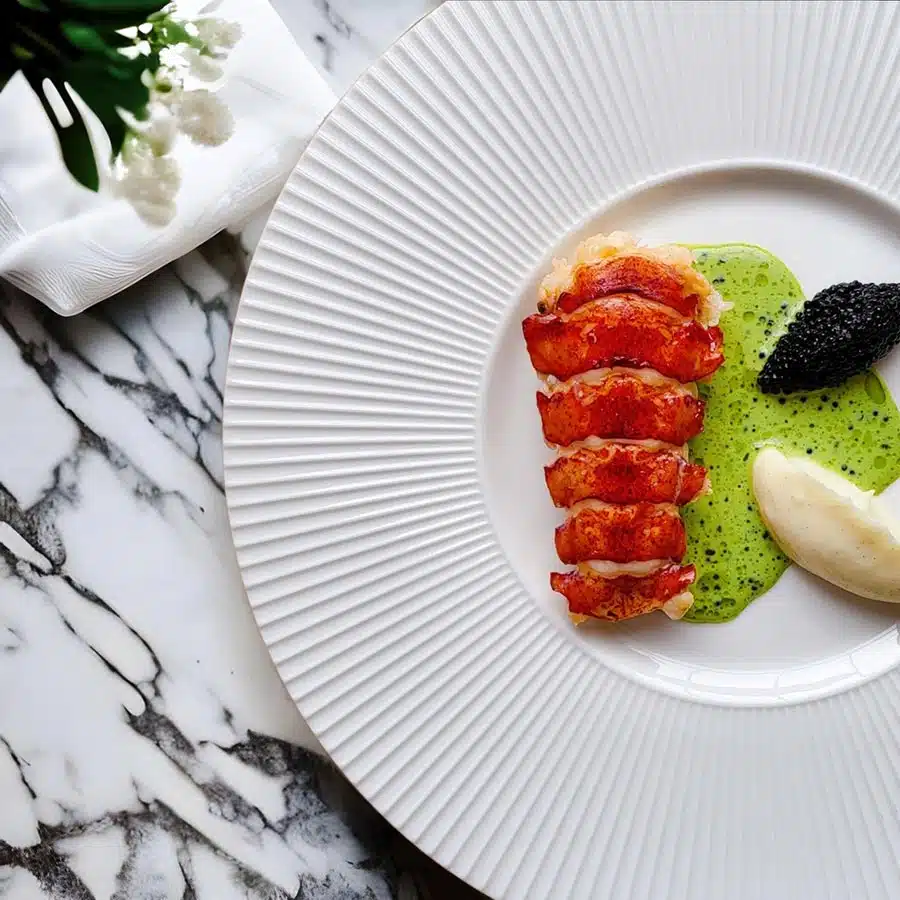 We've also added a brand-new bar and renovated our lounge this past winter. Restaurant and Lodge guests are welcome to enjoy a drink in front of the Great Room fireplace or while taking in a stunning, Moosehead Lake sunset from the back deck. Fantastic!
Reserve your table at 368 Maine now.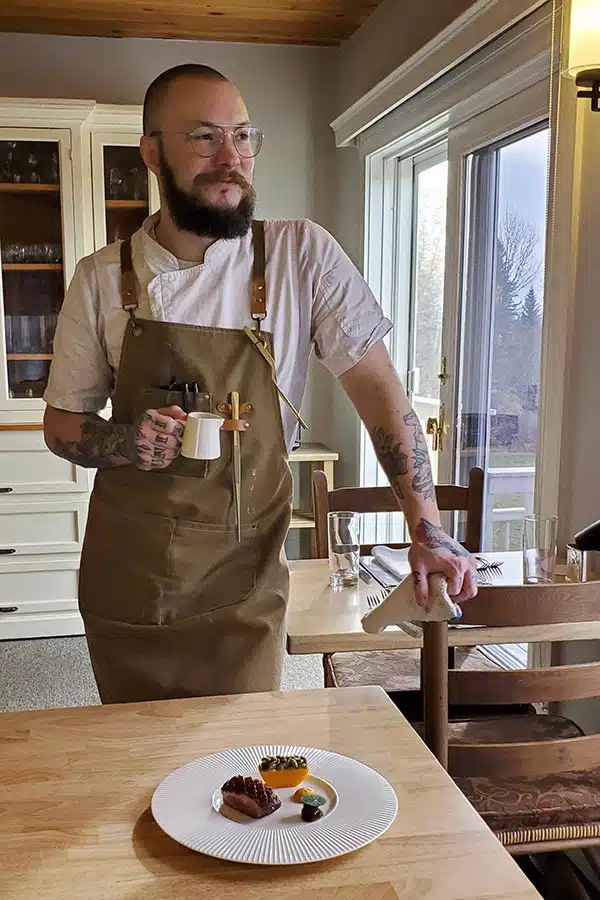 Chef Tyler of 368 Maine
Chef Tyler joined forces with The Lodge at Moosehead Lake in June, 2022 and has been a tremendous asset in allowing us to move forward with 368 Maine. His exceptional food is unlike anything else in the area, earning consistent, 5-star reviews.
Chef Tyler is a graduate of the Culinary Institute of America. He has worked at Relais & Chateaux resorts, remote locations in Alaska, and in kitchens as far as Tokyo and Istanbul. Most recently, he served as Chef de Cuisine at The Grand Hotel on Mackinac Island.
The Chef describes his food as "New" or "Modern American," utilizing local ingredients in combination with fermentation, house vinegars, garums, and modern techniques. In the coming season, we hope to deepen our reliance on the Lodge garden and other local sources in order to move even farther toward using mostly Maine products in our kitchen.
Sous Chef Graham Wilson will be joining Chef Tyler at 368 Maine, in May. We're very excited to have a such great team, moving into summer 2023!