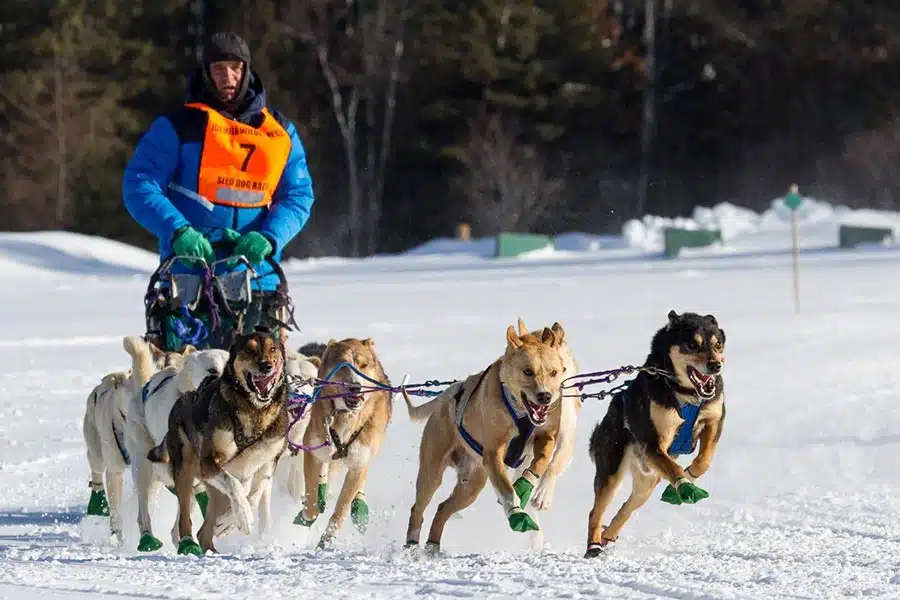 The 2023 Moosehead Area Wilderness Sled Dog Race is just weeks away, scheduled for February 4th, 2023. Those planning on being in the area during this time will not want to miss this unique and amazing local experience!
You've undoubtedly heard of Alaska's Iditarod, arguably America's most famous, long-distance sled dog race. What you may not realize is that it's not the only one. Dozens of such events are held around the country every year, including Greenville's own Wilderness Sled Dog Race, held the first weekend of every February.
The Wilderness Sled Dog Race draws a host of mushers, their teams, and eager spectators from around the U.S. and Canada every year. And why not? The Moosehead Lake area is a gorgeous year 'round destination and the annual sled dog race is fun and exciting. Add in all the other fun, seasonal activities – skiing, snowshoeing, ice fishing, snowmobiling – and you've got a winter wonderland of endless possibilities to explore!
The Lodge at Moosehead Lake is thrilled to share the winter season with you. Our Moosehead Lake Inn & Restaurant offers warm and cozy accommodations with lake views, in-house fine dining, and just minutes from the best area attractions. Why, even the start and finish for sled dog race are less than 5 minutes away!
The Moosehead Area Wilderness Sled Dog Race
Moosehead Area Wilderness Sled Dog Race 2023 is scheduled for February 4th, weather and snow conditions dependent.
The race starts off from Greenville, travels through Maine's 100-mile wilderness area, then returns to Greenville.
Race day sees a variety of challenges for both dogs and mushers. These include a 10-dog team/70-mile race, an 8-dog team/35-mile race, a 4-dog/3-mile race, and a 1- or 2-dog skijor/3-mile race. Mushers start the race in 3-minute intervals starting at 9am. Spectators should plan on arriving by 8:30am to see the sled dog teams getting prepared to race.
Move to the starting chute once the races begin to see the intense excitement of the dog teams up close. The event promises all-day action with sled dog teams coming and going, plus a bonfire and cheering supporters. Spectators can also view the race out on the trail as they head to the northern most checkpoints. Great fun!
Read more about Wilderness Sled Dog Race 2023 at www.100milewildernessrace.org. You can also find the event on Facebook.
Make the most of your Maine winter getaway with a stay at Lodge at Moosehead Lake. Our Moosehead Lake Inn & Restaurant will keep you warm and well fed while helping you to plan any and all of your Moosehead Lake adventures. Come join in the fun!