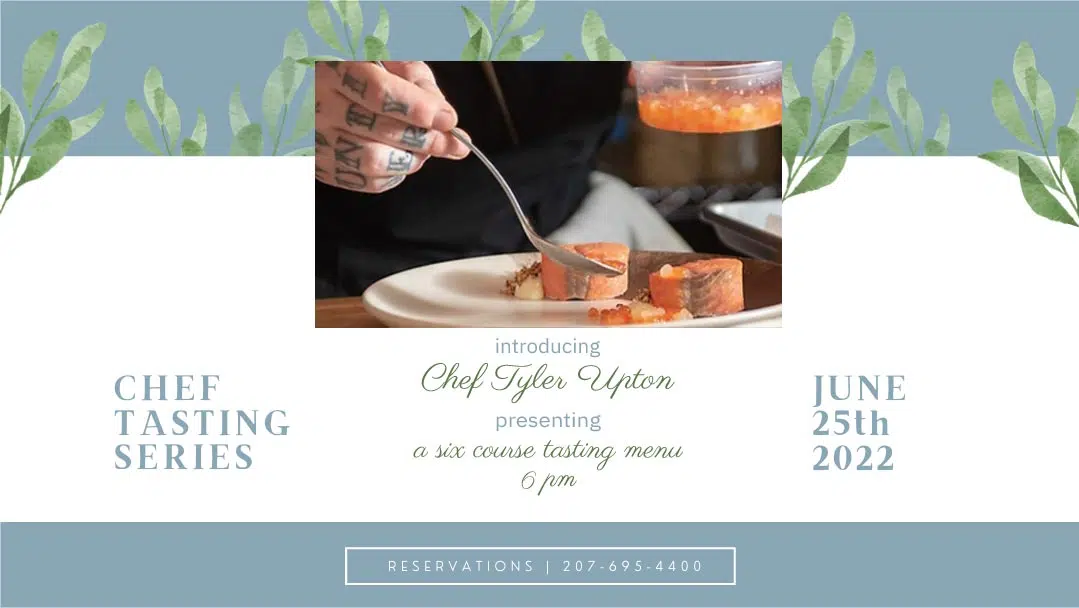 When: 6pm, June 25th, 2022
Who: Open to overnight guests and the public, call to make a reservation!
Where: Overlooking stunning Moosehead Lake from our lake view dining room.
More about our Dinner Offerings
Farm to Table with Chef Tyler Upton
Our farm to table chef tasting series continues with an introduction to our new chef, Chef Tyler Upton!
Tyler is a graduate of the Culinary Institute of America, has served in the US Navy, and most recently worked at The Grand Hotel on Mackinac Island as the Chef de Cuisine.
Tyler has worked at Relais & Chateaux resorts, remote locations in Alaska, and in kitchens as far as Tokyo and Istanbul. Learn more about Chef Upton by visiting his webpage as well as this terrific article about him: Chef on the Rise, from Lancaster County Magazine.
Chef Tyler is looking forward to sourcing local ingredients for his creations at the lodge and is excited to be in Greenville, Maine and at the lodge!
Do check back after the dinner, as we hope to post some pictures of the event.
To reserve your table, call us at 207-695-4400. Act now before reservations sell out. We would hate for you to miss this one!