It's March and around the vast Moosehead Lake is a thick blanket of beautiful white snow. Temperatures are still low, the lake is frozen hard and the sky is blue. It is perfect for romantic Maine winter getaways! If you enjoy the snow and looking for new adventures – make Moosehead Lake your destination!  All winter activities are still going strong with hundreds of miles of snowmobile trails at easy access from the Lodge at Moosehead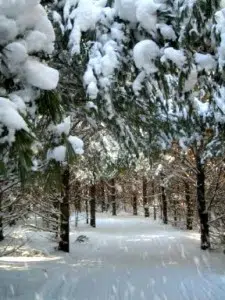 Lake.  We are the perfect location for couples looking to explore the remote terrain of mountains, lakes and ponds. If snowmobiling doesn't tickle your fancy, there is the quiet of cross-country skiing or snowshoeing.  Rentals are available at a nominal fee and we have maps to get you started. Guides are also available to show you the way and teach you the nuances of this sport.  Only two hours away is Sugarloaf Mountain for some of the best downhill skiing in New England for a fun day trip.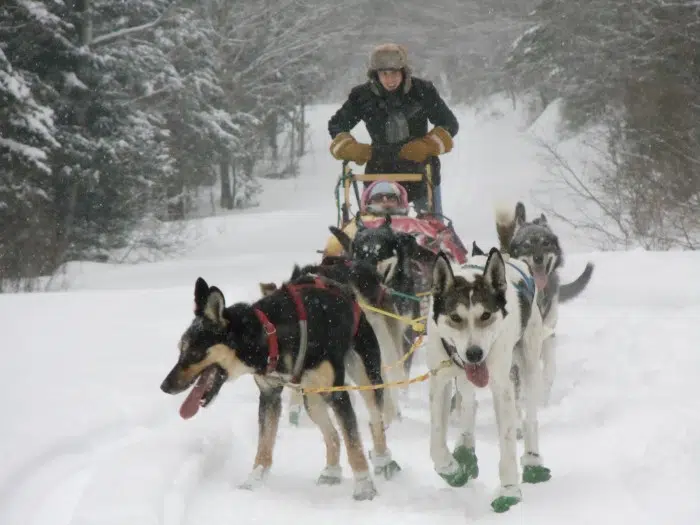 Our most unique trip is our dog sledding adventure. Guests experience mushing their own team, with guidance from two Registered Maine Guides. We have full day, ½ day and overnight trips available. We prepare you with information on what to wear.
Come back to the lodge for hot chocolate, chocolate chip cookies, hot tea or something a little warmer. Fireplaces in every room will warm your heart and toes or stay in the Katahdin suite where there is a second fireplace in the bathroom.  And there are also whirlpools tubs, guaranteed to take the chill out of your bones. The fireplace in the main lodge is a special place to hang out and meet other guests or order our Maine made marshmallows and whole wheat graham crackers for roasting.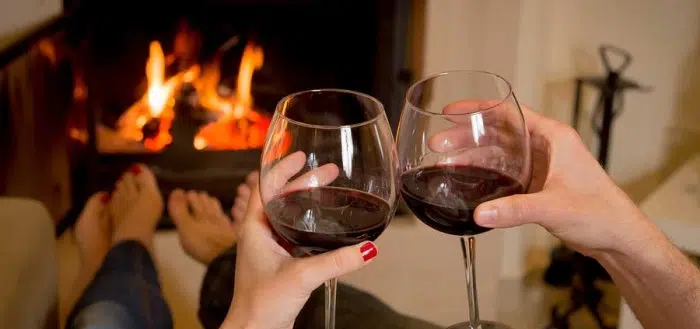 Once you have warmed from your days activities, you just may not want to venture out again.  The Lodge serves a comforting winter supper in Chloe's Pub on Friday and Saturday evenings.  Here you can catch up on the world news, watch sports on the plasma TV or challenge your partner to a game of pool on the lodge's beautiful pool table. No Maine winter getaway is complete without a trip to the Lodge at Moosehead Lake.
Find your perfect room and book your Maine Winter getaways today.