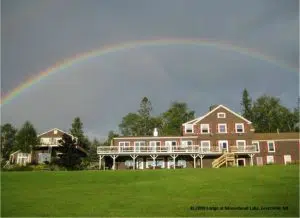 ---
Although we all know what moose are, chances are, you haven't really gotten to know the incredible creatures they are. Here are some fast facts you should know…
24 Facts About Moose:
The plural of moose is moose.
The collective name for a group of moose is a herd or gang.
Moose is an Indian name for "twig eater."
The moose is the state animal of Maine.
The female is a cow, the young is a calf and the male is a bull.
An adult bull can weigh up to 1200 pounds.
The calves are born each spring and twins are not uncommon.
Only the males have antlers, which they shed in the winter.
They travel singly or in a small family group of a cow and her calves.
Moose are strong swimmers and often "island hop."
They can completely submerge to eat the sodium rich water grasses and roots.
The breeding season, called rut, is late September into mid-October.
Their only predator is man and his rifle.
Late May to mid-July might be the best time to see moose, but August through October is good, too.
Moose come to the roads to lick the salts – a mainstay of their diet.
There are 3 moose to every 1 person in the Moosehead area.
The moose is the world's largest deer.
The moose can run 35 miles per hour and can easily swim 10 miles.
Height at the shoulders generally ranges between 6½-7½ feet.
In Europe and Asia, moose are called elk.
A moose's sharp hooves are its first line of defense. Moose are able to kick out in all directions, but generally use their front feet.
Cow moose can live for as long as 20 years. Bull moose may reach 15 years.
The sound made by a moose is referred to as a bark or bugle.
Herds are dominated by one female.
Experience Moose Up Close This Season: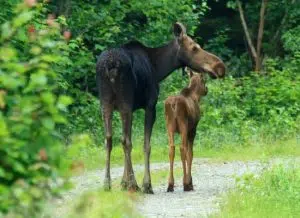 It is prime moose viewing season here in Maine. Book your spring getaway with us and get ready to see these incredible animals up close!
Moose Safari & Wildlife Tours
Go on an adventure to view moose in their natural habitat. High moose sightings are expected! Have your camera ready to capture their beauty! Along with the moose, you may also come across loons, deer, osprey, gray squirrels, otters, beavers, snowshoe hare, and maybe even a bald eagle.
Leaves the Lodge at 5:30 AM, returns around 9:30 AM for four hours or afternoon trips from 4:30 PM to 8:30 PM (times will vary with daylight)
Can be adapted for larger groups
Based on availability
Offered from May through October
Priced for 2 plus private guide that is highly vetted
Available only to Lodge guests
Book when you make your room reservation or call the Lodge – morning trips include picnic breakfast; afternoon, a picnic snack; – includes coffee or tea – if canoeing is not your thing, it can be customized based on your athletic ability
Morning trips can include a hot breakfast prepared campfire style by your guide for an additional charge and an additional hour.
Price: $259 all inclusive
Experience a full day excursion with dinner and book the Call of the WILDlife package.