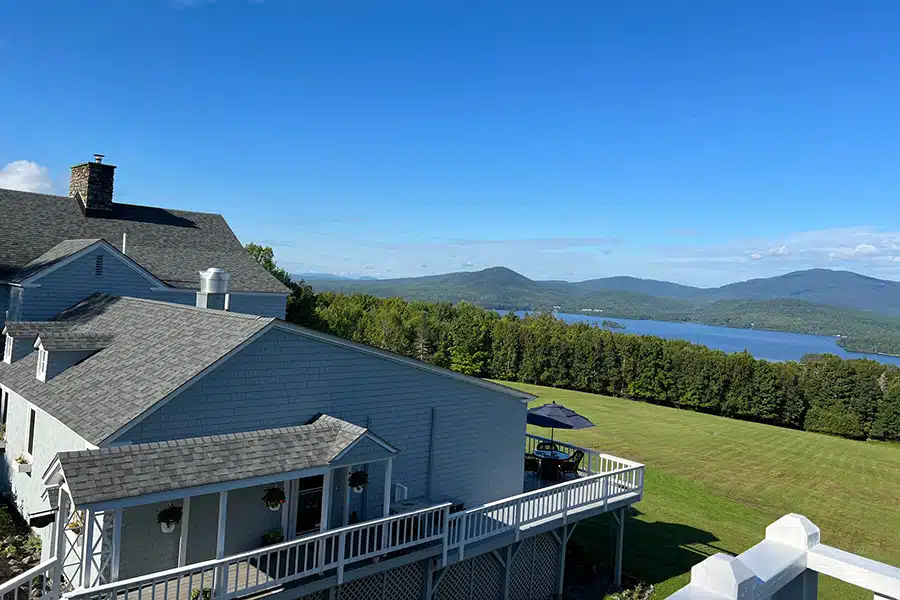 Another season has come and gone here at our Moosehead Lake Inn and Restaurant – and what a year it was! We had fantastic guests, an amazing crew, and made good progress on becoming a Maine lodging and culinary destination. We also decided to close this winter and look forward to seeing you next season: May 1st to October 31st, 2024.
2023 really was an amazing year here at our Moosehead Lake Inn. One of the greatest joys, beyond all the wonderful guests we saw, was watching our 368 Maine Restaurant take flight.
Chef Tyler has elevated the Lodge and Greenville dining experience with his stunning repertoire of creative culinary skills. In fact, everyone on staff worked very hard to make dining here a worthy experience. All this work paid off big time when we received the 2023 DiRōNA Restaurant Award of Excellence. One of only three restaurants in Maine to achieve such an honor!
The Lodge also received some well-deserved kudos in the form of a Select Registry Designation. This is an honor presented only after lots of hard work and a truly rigorous inspection. These awards only further our conviction that we're on the right path, and that makes us proud.
Other news for this year includes a much delayed but finally completed exterior painting. We also brought about a complete renovation of our bar. This follows up on last year's new roofs on all three buildings and the installation of new mechanical and electrical services. We'll continue to upgrade and improve when we can as our list goes ever on: landscaping, renovations, additions, and more.
While the DiRōNA Restaurant Award and Select Registry Designation mean a lot to us, the opinions that matter most to us, are those of our guests. We are so thankful for you trusting us with your time here at the lake and truly appreciate all the thoughtful feedback.
2023 Moosehead Lake Inn & Restaurant Reviews
5/5
"We are so glad we found the Lodge at Moosehead Lake! We loved everything about our 3-night stay. The accommodations are beautiful – the service is outstanding – the food is amazing – and the location is beautiful and unique. There are a lot of local experiences to keep you busy, and the quaint town has some great local pubs that are perfect for a drink and/or bite. We enjoyed sitting in the main house by the fireplace enjoying a cocktail and chatting with the owners and guests. This area is a beautiful part of Maine."
C N – October 2023
5/5
"A wonderful B&B style lodge with a friendly staff and beautiful rooms. The lodge feels high end but not snooty. The staff is friendly and makes you feel at home. The attached restaurant is also a can't miss for breakfast (included with your stay) and dinner (an extra cost but worth every penny). We felt tucked away from the world which is exactly what the parents of two young kids want on a weekend away from the kids. We added on the moose safari which was a highlight of the whole trip, our guide Ashley was knowledgeable and kind who made every effort to get us to see as much wildlife as we could (the canoe trip was one of the most peaceful moments of my life). We can't wait to come back up to moose head lane and will definitely Italy be visiting the lodge again."
Ben Berryman – September 2023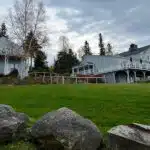 5/5
"We had a four course dinner with minimal choices and tried things we normally wouldn't. The food was excellent as was the presentation. The chef brought our dessert and asked us about our experience. The lamb was outstanding as was the pheasant. Chilled pea soup was delicious. Dessert so good too . It was pricey but worth it."
Daniel Stedfast – July 2023
5/5
"We loved this place so much! The people were amazing. The room was great. The view was fantastic. We would definitely love to go back.
On top of that, Chef Tyler fixed us one of the best meals we've ever had. My wife is vegetarian and said this was her favorite. My lamb dish was delicious. Everything was 11 out of 10!"
Pete Shea – June 2023
5/5
"Impeccable customer-friendly attention to guests! Owners Beverly and Larry were very helpful and proactively accommodating. Amazing sunset views from back porch deck! Excellent all-you-can-eat made-to-order breakfast :)"
Robert Zalucki – July 2023
What's In Store in 2024?
It's fun to look back at all that has come but even more exciting to look forward to what's coming next. What does 2024 hold in store here at Moosehead Lake? Hopefully the answer includes you coming to give us a visit and take in all the majestic beauty here at Moosehead Lake!
Moosehead Lake is an unspoiled wilderness of abundant wildlife, pristine waters, and unbroken vistas of natural beauty. Join us next season at the lake for hiking, camping, fishing, boating, relaxation, fine dining, and so much more.
The Lodge at Moosehead Lake and 368 Maine Restaurant are open from May 1st to October 31st, 2024. Book your stay today – and see you next year!