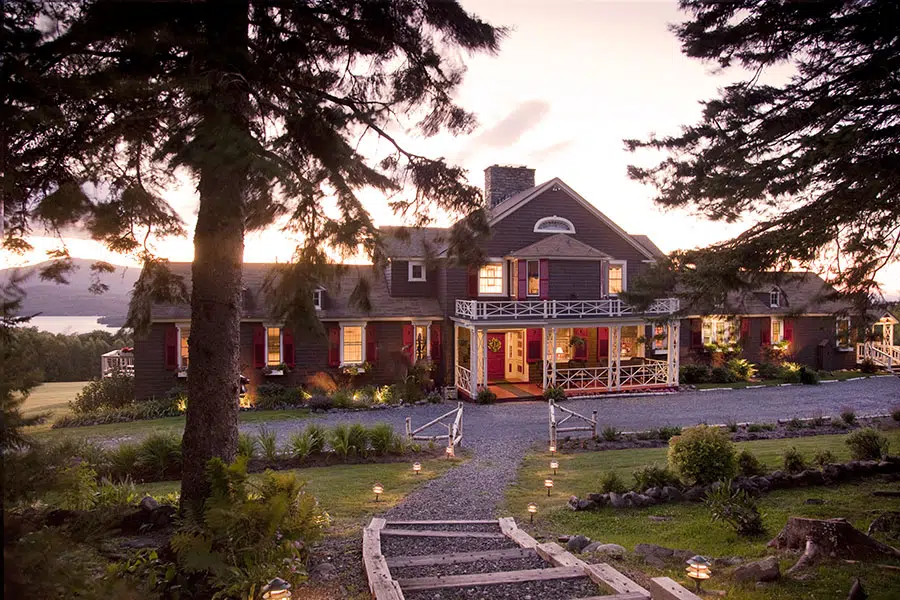 Imagine finding Moosehead Lake under your tree this holiday season. Make that fantasy a reality with Lodge At Moosehead Lake gift certificates and give the gift of a Moosehead Lake getaway!
There's nowhere quite like Maine's Moosehead Lake. An unspoiled wilderness of pristine beauty where the moose outnumber people three to one. No matter what brings you, hiking, fishing, snowmobiling, boating, birding, golfing, artist retreat, or just pure leisure, Moosehead Lake is the place.
Lodge at Moosehead Lake, built in 1917, is a historic Greenville inn and romantic Moosehead Lake wedding venue with incredible views. All but one of our nine, North woods style rooms overlook the lake and feature amenities like in-room fireplaces and jetted tubs.
You expect breakfast at a B&B, and ours are utterly scrumptious, but dinner? Wait until you have a chance to dine at our in-house restaurant! Enjoy fine dining and panoramic views of majestic Moosehead Lake.
Greenville, ME is just 4 minutes down the road with shops, restaurants, and attractions like the historic Steamboat Katahdin at the Moosehead Marine Museum. It's also the place to go for outdoor gear, licenses, rentals, and adventure tours.
Our Moosehead Lake bed and breakfast has received numerous awards and accolades both online and in print publications. Go ahead and put us in the stocking of that special someone this holiday season with one of our customizable gift certificates.
Lodge At Moosehead Lake Gift Certificates
Lodge At Moosehead Lake gift certificates are a great idea for a number of reasons, one of the best being how flexible they are. What do I mean by that?
For one thing, they have no set amount, so you can make them as large (or economical) as you wish.
Secondly, they can be used for almost anything at the inn. While we may occasionally run a lodging special that excludes gift certificates, everything else is up for grabs. That includes accommodations, elopements, add-ons, even dinner in our restaurant!
Lodge At Moosehead Lake gift certificates can either be emailed or physically mailed to whatever destination you wish. Send them to yourself to hand over in person or have them mailed directly to your recipient. Your choice!
Finally, our gift certificates never expire. This allows the recipient to use your wonderful gift at their pleasure, rather than feeling rushed to use it or lose it.
Now that's flexibility!
Lodge At Moosehead Lake gift certificates are also very easy to purchase. Just follow this link, fill out the form, make your payment, and you're done: instant Moosehead Lake getaway!
Happy Holidays!