Did you know the 2024 total solar eclipse, set to occur April 8th, will be visible from Moosehead Lake? It's true! People are already booking rooms for this rare and fantastic natural event. If you hope to catch the next Great American Eclipse during your Moosehead Lake getaway, now is the time to reserve your room.
There is no end to the reasons why people love vacationing at Maine's Moosehead Lake. Unspoiled nature and wildlife, hiking, boating, fishing, biking, snowmobiling, seaplanes, dogsleds, and so much more. You don't really need the excuse of a solar eclipse to visit – but it sure ups the ante!
If you've never seen a total solar eclipse, you're missing out. It truly is one of the most fascinating, natural phenomena you can witness. I've seen one and can tell you that no picture or video compares to seeing one with your own eyes. Just be sure to wear eclipse glasses!
Solar eclipses are not as rare as you might think, taking place just about every 18 months, or so. In fact, 2024's event will be the third time in seven years that mainland United States sees a total or annular eclipse. The previous two occurring on August 2017 and October 2023.
With that level of regularity, you'd think seeing an eclipse wouldn't be that rare. What you have to remember is that the totality of an eclipse, when the moon completely obscures the sun, only has a narrow path of visibility. Thus, one has to be in just the right place, at just the right time, to see one.
That's why we're all so excited that the next Great American Eclipse is set to pass right over Moosehead Lake and Greenville, ME!
April 8, 2024 Solar Eclipse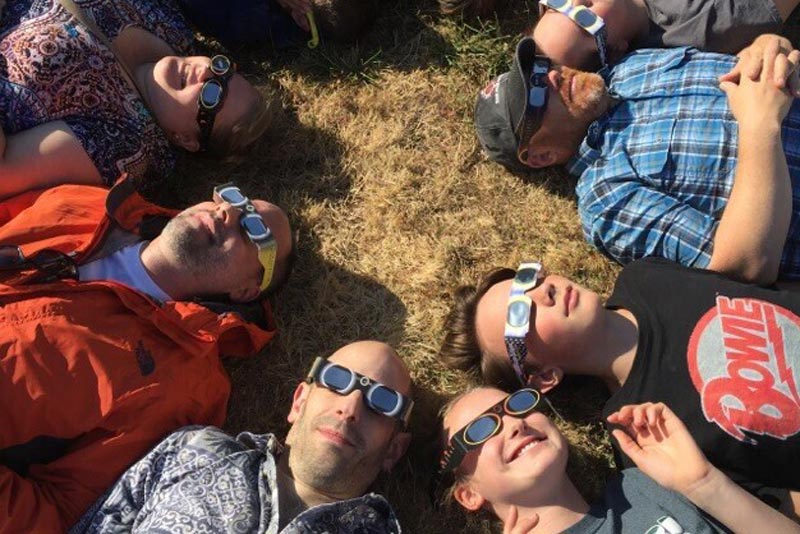 The path of totality for the 2024 solar eclipse will run diagonally across North America. It will pass through Mexico (from Sinaloa to Coahuila), the US (from Texas to Maine), and Canada (from Ontario to Newfoundland). Even more exciting, the duration of totality will be up to 4 minutes and 27 seconds, almost double that of The Great American Eclipse of August 21, 2017! A partial eclipse will be visible across almost all of North America, and even a thin section of western Europe.
Greenville, ME can expect about 3 minutes of totality, when the sun is totally hidden. The full event, the moon moving in front of then away from the sun, will take around two and a half hours. Partial coverage begins at around 2:20pm, with full coverage at 3:32, and the event fully ending around 4:40pm.
While the eclipse is absolutely guaranteed to occur, clear skies are not. But is there really anywhere else you'd rather be than Moosehead Lake? Us either!
So go ahead, book your next adventure with The Lodge at Mooshead Lake. We can't wait to share the area with you!